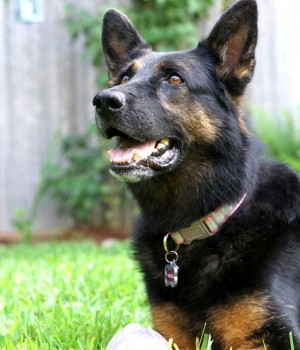 Status: Adopted
Age: 7 years (DOB 09/27/2013)
Size: Medium to Large
Color: Black and Tan
Sex: Female
Activity level: Medium to High
Good with other dogs: Yes
Good with cats: Yes
Foster parents: Ken and Lorna B
Sponsor Buddies:
Yard Fencing: Required
Click to View More Images.
Password: Arena
Photos by: Loueen LaVallee

Date Adopted: August 8, 2021
Arena is a petite and stunningly beautiful 7-year-old female.  Unflappable, she easily adapts to new situations and environments with ease.
Arena's owner loved her very much and put considerable energy into her training including high performance skills.  She competed in agility and even learned many skills of a service dog.  After losing her housing, her owner found Arena a temporary place to stay, but she realized this was not a long- term solution.  Even though it was an incredibly hard decision to make, she contacted GSRNE to help find a permanent home that would keep Arena active, her mind sharp, and continue her training.  Arena's owner told us that she has been trained to not react to other dogs or cats and is calm in chaotic environments which we immediately took note of during her evaluation.
We did not have any foster homes available, therefore, we contacted a family already approved to adopt who had considerable German Shepherd Dog experience and had recently lost their own.  After they saw Arena's pictures and learned about her situation, they happily agreed to foster her.  Within a day Arena had made herself at home.  Her new family received compliments from neighbors on how well behaved she was when going for walks.  She has been very polite with all the new people she meets and has continued impressing everyone with her training.  Arena is bonding with and keeping close track of her new family, frequently checking in with each member in the home.  We are so happy to announce that Arena has found her forever home.